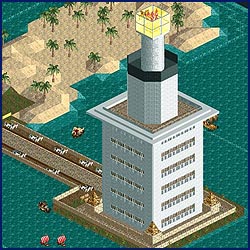 Additional Screenshots:
(Click to enlarge)





A light breeze came in off the ocean. Small waves lapped the shoreline. A large, white Lighthouse stood watch over the coast.

"I've never smelled air this fresh!" exclaimed Candy.

"Yes," agreed Cindy. "It's beautiful here!"

"Not bad," Billy agreed, "but it's not perfect."

"Well, it could be perfect," said Bobby. "All it needs is a few coasters. That Lighthouse could come in handy, too!"

Billy squinted at the Lighthouse. "It would take some work, but you're right. I'll bet we could wrap a coaster or two around that. What do you think?"

"Let's give it a try!" they all said.

Notes from Katatude:
"Constructed appx. 290 B.C. to 280 B.C., the lighthouse was the tallest building in the world and guided many ships to safe harbor. The Island of Pharos is part of the city of Alexandria, Egypt and hence the name, Lighthouse of Alexandria. The Lighthouse was one of the Seven Wonders of the World.

Authentic within the constraints of the game."